A Major game crossover was released in November that combined the worlds of Magic: the Gathering and Dungeons & Dragons!  Back then we ran a special pair of events for both D&D and MTG on the same day that celebrated this merging of amazing games.  This month we will be participating in a second such event: Ravnica Weekend 2!
This day of events will include both an MTG tournament, and a D&D gaming session.  Participants can play in one or the other, but are encouraged to play in both – and in fact will save if they do!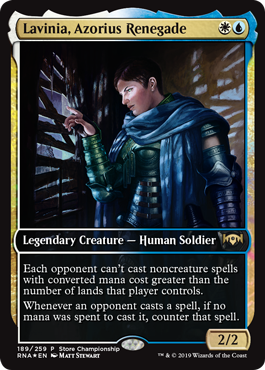 Event 1 – MTG Ravnica Championship Event:
When: SAT, February 16, 12:00pm
Entry Fee: $10.00 -or- 3 Hero's Rewards (Play in Event 2 Free!)
Stronghold Members Get: A Hero's Reward
Format: Standard, Swiss 3-5 Rounds
Prizes: We will add 2 Boosters to the prize pool per participant.  Additionally we have very special full art Lavinia, Azorius Renegade give out to participants, while supplies last, and the winner will get a very special Ravnica Allegiance 'Champion' playmat!
Get in to the 2019 BKG Grand Championship Invitational: In addition to winning the sweet playmat, the winner of this event will secure an invitation to our big Invitational next January!
Event 2 – D&D Ravnica Adventure:
When: SAT, February 16, 5:00pm
Entry Fee: $5.00 – or 2 Hero's Rewards (Free if you play in Event 1!)
Format: We will have DMs to run sessions of an all new adventure set in the MTG world of Ravnica!  Show up an hour early if you'd like help making a character.
Prizes: We will have 5 exclusive Ravnica Art Posters which will be passed out to players based on excellent Role Playing.  Additionally we will have some dice and Hero's Rewards to pass out as well – Everyone gets something!
Play in Both Events and Save!
If you participate in both events, you will get in to the D&D event for free!  Additionally you will be given a very special limited edition Guild-Themed basic land magic card (while supplies last, order of picks will be in order of registration)!
So join us to celebrate this exciting merging of worlds with us with two special events!