The next set of MTG, Ravnica Allegiance, is coming, and it completes our ten guilds from Guilds of Ravnica.  There are a three great reasons that you might want to preorder a booster box, here are the details of our Special: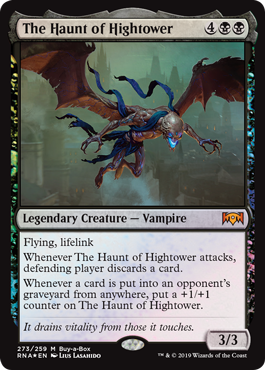 Ravnica Allegiance Release:  Wizards has announced that Ravnica Allegiance booster boxes will have a special preorder perk – you will be able to get your boxes of Ravnica Allegiance boosters a week early during Prerelease Weekend – first come first serve.
Ravnica Allegiance Release Date: Friday, January 25
Ravnica Allegiance Box Early-Bird Pick Up: January 19-20
Ravnica Allegiance Exclusive Buy-a-Box Card:  On top of that you will get the Standard-Legal buy-a-box promo card which will be exclusively available as a buy-a-box card – there will be no other way to get it.  The card is 'The Haunt of Hightower', and it will be limited to the first 60 people who order or buy a box of Ravnica Allegiance from Black Knight Games.
Booster Box Preorder Price: $149.99 (Reg $159.99)
Pay with Hero's Rewards: Have you been saving up those Hero's Rewards from the events you've been attending?  Well you can always trade us 40 Hero's Rewards and get a booster box for free!  So you can take advantage of this special using only Hero's Rewards!
So get those orders for your Ravnica Allegiance booster boxes in soon to guarantee yourself one of the early boxes, with buy-a-box promo for a better price!