Ultimate Masters, the 'last planned Masters set' is coming and it's bringing some major reprints, and a very special promo is contained in every box.  Here are the details of the BKG Preorder Special: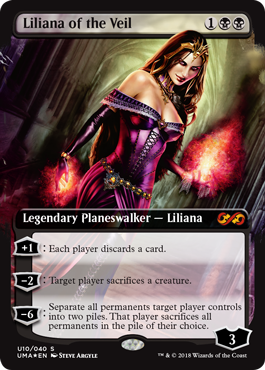 Ultimate Masters Release & Box Topper:  Wizards has announced that Ultimate Masters booster boxes will have a special perk – Every box will include the 'Ultimate Box Topper' which includes one extremely limited promo taken from 40 of the best cards in the set.  Each box includes 24 packs of 15 cards, each pack
Booster Box Preorder Price: $459.99 (Reg $499.99) SAVE $40!
Deposit: This is a very premium item, and we recognize that it's not cheap.  To help out we are only requiring a $150+tx deposit to reserve your item.  The difference is due on pick-up.
Pay with Hero's Rewards: Have you been saving up those Hero's Rewards from the events you've been attending?  For this item you can trade in 25 Hero's Rewards to knock $100 off the price!  You can do this as many times as you'd like.
Check out the full announcement for the set, including the amazing list of cards that are possible Box Toppers.  Tarmogoyfs, Tutors, Lilis, and more!