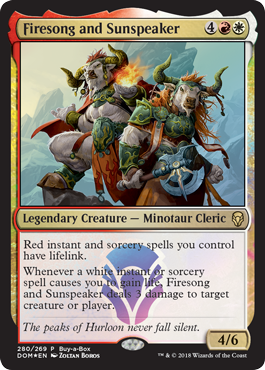 Dominaria, the next set of MTG, is coming and it's coming in hot.  Here are the details of the BKG Preorder Special:
Dominaria Release:  Wizards has announced that Dominaria booster boxes will have a VERY special preorder perk – you will be able to get your box of Dominaria boosters a week early during Prerelease Weekend!
Dominaria Release Date: Friday, April 27
Dominaria Booster Box Early-Bird Pick Up: April 21-22
Dominaria Exclusive Buy-a-Box Card:  On top of that you will get the buy-a-box promo card which, for the first time, will be exclusively available as a buy-a-box card – there will be no other way to get it.  The card is 'Firesong and Sunspear', and it will be limited to the first 60 people who order or buy a box of Dominaria from Black Knight Games.
Booster Box Preorder Price: $139.99 (Reg $159.99)
Pay with Hero's Rewards: Have you been saving up those Hero's Rewards from the events you've been attending?  Well you can always trade us 40 Hero's Rewards and get a booster box for free!  So you can take advantage of this special using only Hero's Rewards!
Buy-a-Box Booster Packs:  We still have some of the Ixalan Buy-a-Box booster packs, so when you preorder your Dominaria booster box through us you will also get a bonus booster pack of foils & rares!