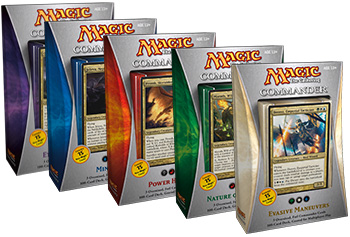 November 1st marks the release of a new set of five preconstructed Commander decks.  Commander 2013 will consist of five different 100-card singleton decks, each with a retail price of $34.99.  To continue the tradition of oversized cards associated with our multiplayer releases, each deck will also include three premium oversized legendary commander cards that can be used in lieu of the normal versions of the cards (which are also in the deck).
What's more, on the Monday following the release of these decks (November 4th) we'll be hosting a special Release Event for our crew of EDH players who usually come out on Monday Nights.
Entry Fee:  $45 (or $40 for stronghold members)
When:  Monday, November 4th.  Each time we have 5 people together for a pod we'll launch one, starting at 5:30pm and going until 9pm.
How it works:  When you show up you are divided up into pods.  Each pod of 5 gets a display of Commander decks (one of each) and you'll divide them up by high-roll (highest rolling player picks first, and so on).
Prizes:  Every time you eliminate a player in your pod you get a booster pack.  If you're the last player standing in a pod, you get a booster pack.  Simple as that!  Come down, open some amazing new EDH/Commander decks, and play some games.