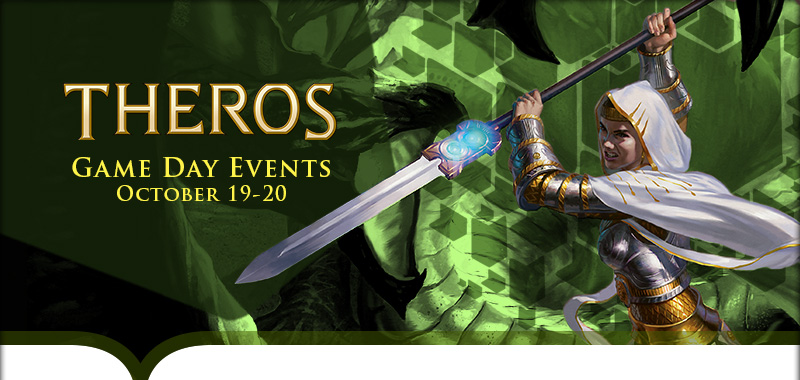 When: Sunday, October 20th from 12 pm – 5 pm.
Entry Fee: $5 (or $4 for Stronghold Members)
Format:  Standard (all cards from the most recent Core set, as well as Theros and Return to Ravnica blocks)
Prizes:  All participants receive an exclusive Phalanx Leader full-art promo card.  The Top 8 players each receive an exclusive Nighthowler full-art, foil promo card.  1st place winner of Theros Game Day will receive an exclusive Playmat.  We'll also be handing out store-credit based on attendance.
Side Event:  Face the Hydra Challenge – Bring the Hero Cards you've earned at Theros Pre Release and Launch Weekend to help you defeat the Face the Hydra Challenge Deck at Theros Game Day.  This special deck is may be challenged beginning with Game Day, between rounds or at your convenience.  It's not a part of the tournament, but you'll want to defeat the Hydra to earn the third Hero Card on the Hero's Path.
When: Sunday October 20th, 4 pm – 8 pm
Entry Fee: None!  This is a free event open to everyone.  Call to Arms participants can count it toward the required attendance of two events.
What is High Command?:  High Command is a deck-building card game released by Privateer Press, set in the world of Warmachine and Hordes.  Card players who love strategic deckbuilding at tactics will enjoy High Command's deck building and customization elements.  Warmachine players in High Command get the chance to play as a favourite faction, or try something completely different!  Press Gangers Tim and Matt will have copies of a few factions on hand to lend out if you don't own a copy of the game yet or are unable to borrow a faction from a friend.  High Command Hordes is also in-stock right now at BKG.
Prizes: Depending upon attendance, we will be giving out alternate Warcasters and Warlocks unavailable in the base game.  Event winners will also be given alternate art versions exclusively available through organized play that will not be available in future releases.