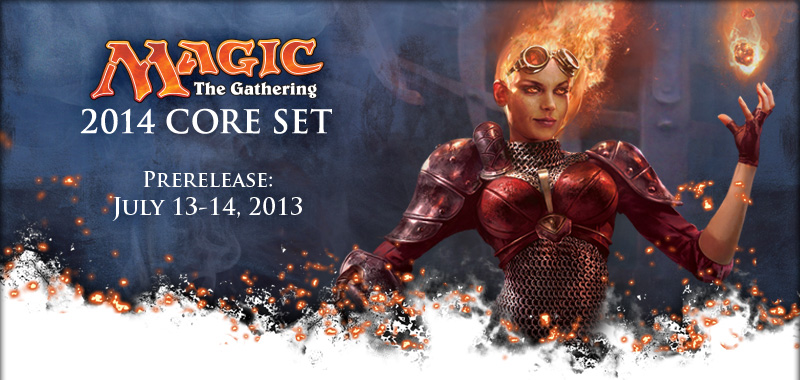 Every three months Magic: the Gathering releases a new batch of cards for us to all get excited about.  Right after a new core set, but before September's release, Standard has the most possible cards legal in it.  New sets are exciting, and this is going to be our first in our amazing new store.  Come on out and join us.  We're increasing the per event cap on players able to attend this one, so tell your friends!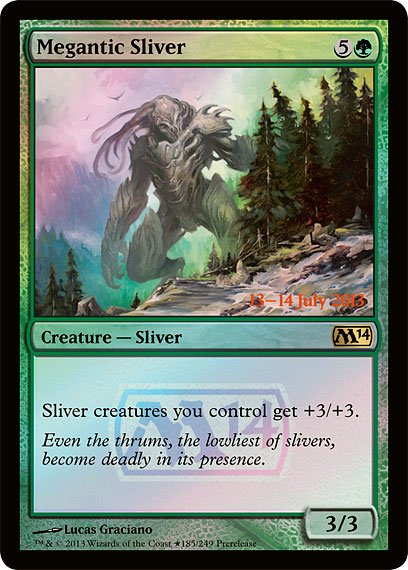 When:  Saturday, July 13th
9:00am – 2:00pm
2:00pm – 7:00pm
7:00pm – Midnight
And Sunday, July 14th
10:00am – 3:00pm
3:00pm – 8:00pm (2-Headed Giant Sealed)
Entry Fee:  $30 per event (per person, in the case of the 2-Headed Giant event).  Stronghold Members enjoy a discount, and pay only $25 dollars.  We're already taking pre-payment, and this is a popular event, so get in here and sign up as soon as possible.
Bring:  Yourself.  If you're coming to the second pre-release on Sunday, bring a partner too!
What You Get:  6 Booster packs to build a deck with on site.  If you win at least three games, you'll also win prizes from the store (more M14 boosters!).  As if this wasn't exciting enough, everyone also gets a cool Prerelease card (pictured: right).
Prizes:  Every pre-release BKG has always gone above and beyond in handing out prizes, both plentiful and deep in the final standings.  As always, we'll be giving away some random boosters to participants, so make sure to stay to the end of your event.  What's more, this is the first opportunity to earn packs from the core set that does not release until later this month.